Jackman's History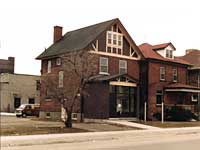 Jackman's before expansion in September of 1977
In 1908, Walter Jackman founded a flower shop named Jackman's to serve the floral needs of North Bay and the surrounding area. Walter was a simple man who built the business based on a simple creed: better flowers and better service. This common sense approach became the basis for the Jackman's philosophy.
In 1977, Barry and Marcia Pond were searching for a way to build a quality life for themselves and their family, and as luck would have it, Jackman's was for sale. The Ponds loved the idea of running their own business, and were able to find money to purchase the flower shop.
After learning the flower industry from the ground up, the Ponds began to dream of expanding the local operation to service a larger market. The first step towards this dream came in 1988, when the Jackman's business model was expanded to include a national flower delivery call centre. (Little did they know, that call center would one day serve as the foundation for the Jackman's online platform, when it was launched in 1996.)
Jackman's today
Due to the success of the company's call centre and Internet operations, Jackman's grew from a small local flower shop to a company processing orders delivered across North America and overseas.
Soon Jackman's began to gain a reputation for quality and excellence that reached far beyond the local community.
Erin Pond is the second generation in her family to lead the business. She took over from her parents, Barry and Marcia, just over a decade ago. Jackman's continues to spreading hope, compassion, love, sympathy, and care with high quality floral gifts and excellent service for customers to connect with loved ones near and far.